*** FRIDAY, NOVEMBER 18TH 2005 ***
The hottest club in the galaxy is about to go platinum . . .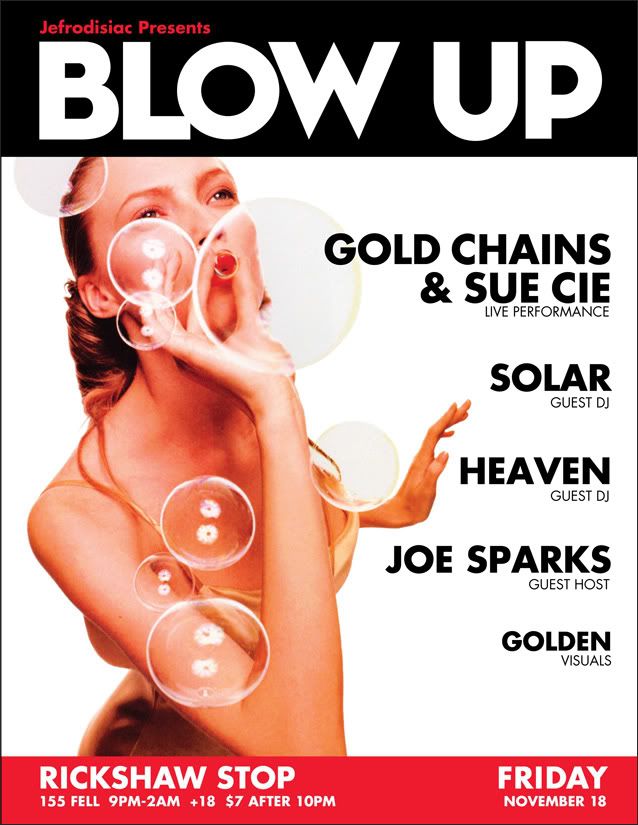 Bling Bling! This month BLOW UP has a band made of precious metal, otherworldly DJs, and a CD release party that comes from above. Too much of a good thing? Death from excess? It might just happen this Friday night. Starring . . .
GOLD CHAINS & SUE CIE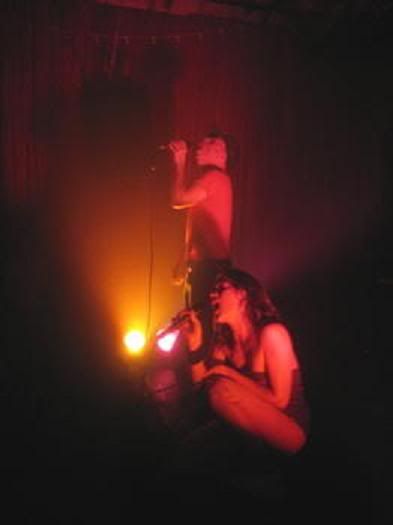 With one foot in the club and one hand on your heart, this tagteam duo drops fresh beats & rhymes with sass and attitude to spare. Having just toured in Portugal, Spain, and Germany, Gold Chains & Sue Cie will be jetting in to San Francisco to delight you with their noveau floor styles blending hip hop, heartbeats, punk and psyche. *** And blasting the Rickshaw's dancefloor out of the solarsystem, BLOW UP is elated to showcase this supernova DJ . . .
SOLAR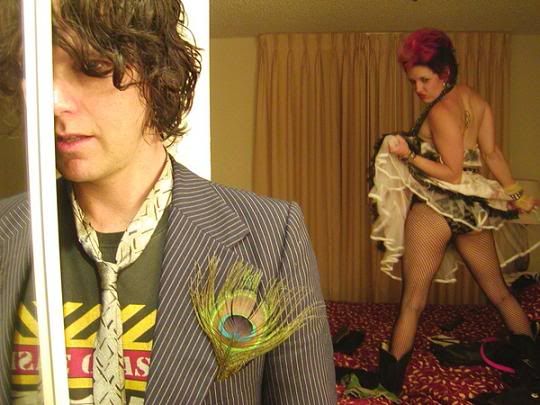 The mastermind behind the infamous Sunset boat parties as well as a decade of Bionic, Solar is one of San Francisco's first class DJs gauranteed to blow your mind. *** If the solarsystem isn't high enough for you, BLOW UP will have you dancing in heaven. . .
HEAVEN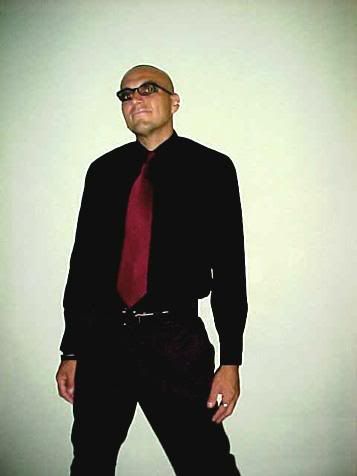 You know DJ Heaven from the Arrow Bar staples Metamatic and JAiLBAiT U.K, and more recently the Morrissey mecca of Louder Than Bombs. Never ceasing to make miracles on the turntables; he'll be spinning a divine worthy set of your favorite Brit-Pop, Synth-Pop and ass-shaking tunes to start your night off in a heavenly fashion. ***
Don't think the night could get any better? You are mistaken! Presenting, a Guest Host prepared to ignite and delight . . .
JOE SPARKS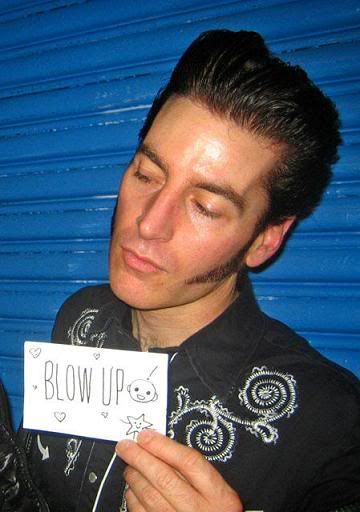 You've seen the sparks fly whenever he's on the BLOW UP dancefloor. This Friday Mr. Sparks steps into the limelight to ignite us into debaucherous-dance-floor-destruction. Everyone's favorite party person, Joe Sparks has a heart of gold, style to spare, and more dance-moves than Ian Curtis and John Travolta's lovechild. He'll be on hand to welcome you in, warm you up and keep you moving til the stars fall from the sky.
***SPECIAL ADDITION***
Discopunk favorites Death From Above 1979 are about to release "Romance, Bloody Romance", a series of mammoth remixes and unreleased tracks, including mixes from mavericks Phones, Justice, and Queens of the Stone Age.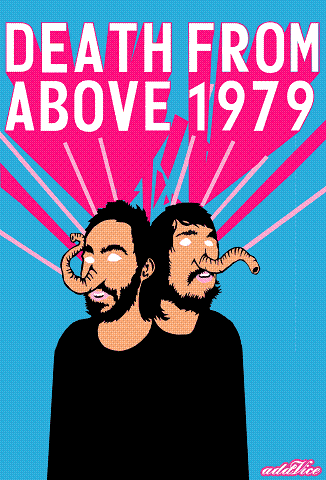 BLOW UP has 5 copies of this album before it's set release date, to be raffled off this Friday, courtesy of addVice Marketing.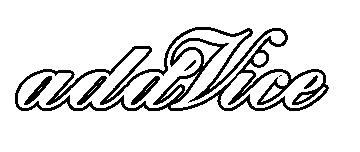 And! As usual, you can expect nothing less than the best from...
DJ JEFRODISIAC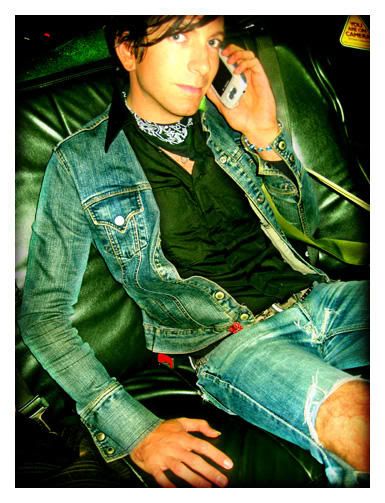 He never fails to make your pants shake, knees weak, eyes twinkle, and your insides tingle. ***
CHRIS GOLDEN.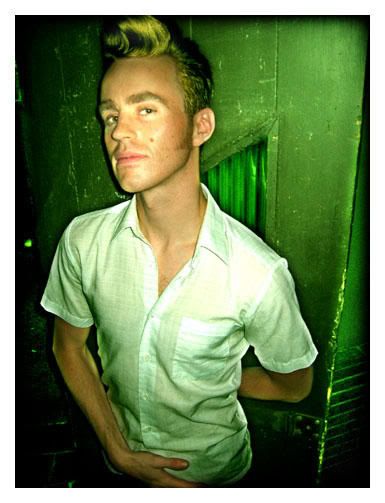 . . . Stimulating optical excitement from a creative genius with the golden touch... ***
ALIA KAHAN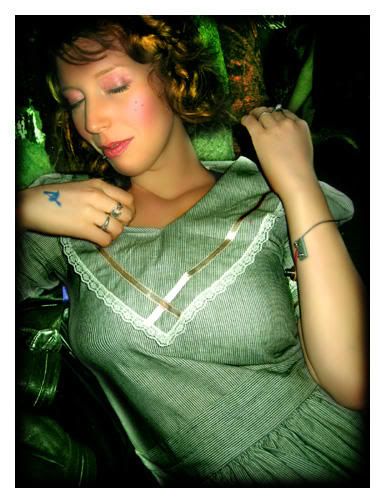 . . . Flashing smiles and breakin hearts our gorgeous photographer and personal Paparazzi hottie.
PREPARE YOURSELF FOR A NIGHT OF PURE ECSTACY.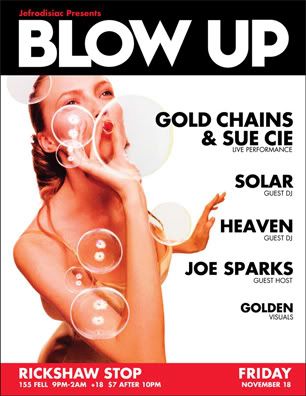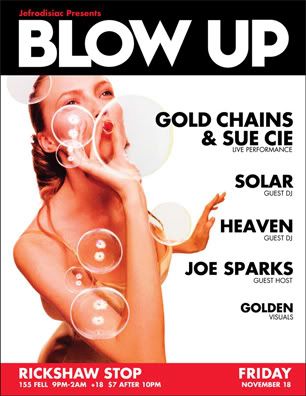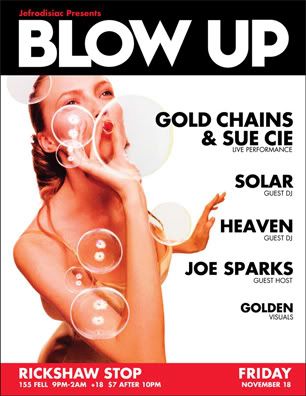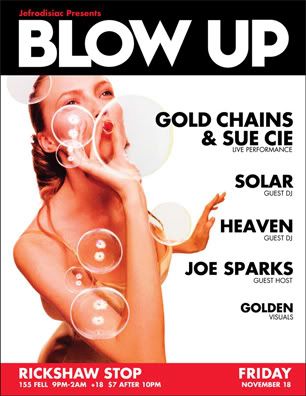 !!! THIS FRIDAY, NOVEMBER 18TH !!!
Live Performance : GOLD CHAINS Guest DJ : SOLAR Guest DJ : HEAVEN Guest Host : JOE SPARKS
The Rickshaw Stop 155 Fell @ Van Ness 18+ free before 10pm, $7 after
ITS GOING TO BE OUT OF THIS WORLD . . . !!!
Pick up the premiere issue of BPM Magazine to see an outstanding review of BLOW UP in the "Nightlife's New Breed" article !!!
BLOW UP. And get down.

* BLOW UP * BLOW UP * BLOW UP * BLOW UP * BLOW UP * BLOW UP *